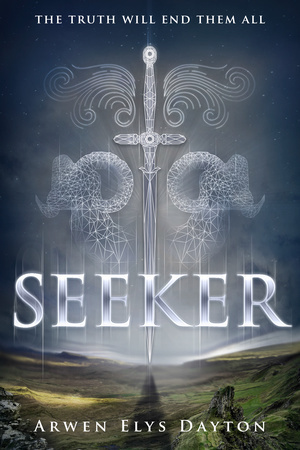 Title: Seeker (Seeker #1)
Author: Arwen Elys Dayton
Date Published: February 10th 2015
Publisher: Random House Childrens
Rating: 3.5 out of 5 Stars
*ARC provided by NetGalley*
Goodreads Blurb:
Quin Kincaid has been put through years of brutal training for what she thinks is the noble purpose of becoming a revered 'Seeker'.
Only when it's too late does she discover she will be using her new-found knowledge and training to become an assassin. Quin's new role will take her around the globe, from a remote estate in Scotland to a bustling, futuristic Hong Kong where the past she thought she had escaped will finally catch up with her.
When I first read the blurb for this book, I was expecting Shadowhunters. But I was extremely off- there was absolutely nothing in this book that even hinted of Cassandra Clare's City of Bones. To sum it up in two words: futuristic ninjas.
It stared off as a typical YA book, and I expected it to be unoriginal and boring but I was wrong once again. The characters had great backstories, which were shown through the wonderful flashbacks (my favorite part of the book). The flashbacks also served to add more depth to all the characters and were extremely interesting.
Although the main point of the story was unclear (the biggest problem I had with the book), there were many side plots that introduced new twists and turns and kept the book exciting. Content-wise, the middle of the book was exponentially better than the beginning or end. The beginning, in my opinion, was too slow and lacked a plot. And the end threw way too much stuff at the reader, failing to competently wrap-up the book (it was NOT a cliffhanger, just an inconsequential ending) and the end did absolutely no justice to the quality of the author's writing.
To address my biggest problem, I did not see the point of this book- I failed to see the big picture and literally have no idea what in the world a Seeker is supposed to do. And while the characters were wonderfully developed, the setting and the World could have been explained a LOT more.
To sum it up:
Awesome:
interesting, fully developed characters

flashbacks

continuous action

Quin was awesome

amnesia

the Young Dread (I absolutely despised the other two)
Shabby:
ending

lack of main conflict

continuous action

dialogue
This book isn't very captivating, and, at times, I found myself struggling to finish.
But, overall the book is surprisingly original and I recommend it to anyone who wants a break from the stereotypical YA fiction.