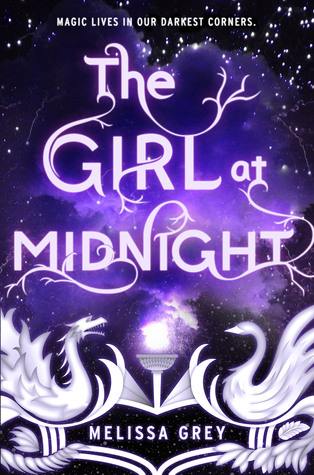 Title: The Girl at Midnight (The Girl at Midnight #1)
Date Published: April 28th 2015
Publisher: Delacorte Press
Goodreads Blurb:




Beneath the streets of New York City live the Avicen, an ancient race of people with feathers for hair and magic running through their veins. Age-old enchantments keep them hidden from humans. All but one. Echo is a runaway pickpocket who survives by selling stolen treasures on the black market, and the Avicen are the only family she's ever known.




Echo is clever and daring, and at times she can be brash, but above all else she's fiercely loyal. So when a centuries-old war crests on the borders of her home, she decides it's time to act.

Legend has it that there is a way to end the conflict once and for all: find the Firebird, a mythical entity believed to possess power the likes of which the world has never seen. It will be no easy task, though if life as a thief has taught Echo anything, it's how to hunt down what she wants . . . and how to take it.

But some jobs aren't as straightforward as they seem. And this one might just set the world on fire.
The plot of The Girl at Midnight reminded me of the Daughter of Smoke and Bone by Laini Taylor. It was a good read and the style of writing was unique and peppy, but there were So. Many. Parallels. The writing style was a curious blend of old and new; the characters talked in a refined manner, but once in a while something snarky and entirely unrefined slipped in:
"Pickpocket?" The word was so salty Caius could almost taste it."
Salty? Realllyyy? It cracked me up, but it just seemed so alien.
I enjoyed Echo's character, especially her Bravado as she called it. She was altogether super funny and witty. But the way she interacted with others and actually the way ALL the characters interacted with each other seemed so orchestrated. The only true connection/ depth of feeling I could perceive as genuine was that of The Ala and Echo. Speaking of The Ala, she was my favorite character! Loooved her. Although you could technically draw her as a parallel to Brimstone (from Laini Taylor's Daughter of Smoke and Bone), The Ala is much more of a parental figure, and she was so cool. That first chapter/prologue was my favorite chapter in the whole book because it just seemed so real and perfect. Rowan vs Caius. Hmmm, how well do we actually get to know them in this book? Not well at all, honestly; both characters could have been explained much, much more. Ivy was an interesting addition, and should have a louder voice/bigger role. Out of all the characters, I didn't truly understand any of them except maybe Echo. Virtually none the characters seemed to grow/mature; there was no transition period. To elucidate, at the beginning Echo is naive then bam she gets imprisoned then bam she's super mature and jaded. It was frustrating to see how quickly and unnaturally all the characters changed throughout the book.
There are so many elements in this book, but none of the seem fully developed. For example all the locations visited in this book were pretty cool, but the only one I felt I truly understood and "saw" was Echo's library. Although the scenes take place in "familiar" (relative term) settings such as New York and Japan, the distinctions between the supernatural and the familiar are non-existent: when we are traveling through New York, I don't really get a feel of how the author is portraying the environment. Does she want it to be spooky, otherworldly, familiar, or intriguing? The writing is pretty and the dialogue droll, but it lacks life. The author doesn't always have clear voice and sometimes the story feels a bit directionless.
There was an abundance of "action" but nothing actually got resolved. Also the famous firebird? Little to nothing was revealed about its so called powers. There is very little information on the history of the two species the Drakharin (dragon people) and the Avicen (bird people). I did however enjoy the descriptions of both races, and especially when describing Jaspar, found the feathers and scales to be absolutely ethereal.
I know I had a lot of complaints with this book. The reason was that I was expecting something better, something really, really amazing. This book was merely good BUT I found myself enjoying the banter between Echo and her friends, and loved the descriptions of the otherworldly creatures as well as Echo's thieving escapades. I recommend this book to those who don't have any expectations and want to rebound after reading the Daughter of Smoke and Bone. Also, fans of high fantasy and snarky heroines will find themselves enjoying this book.