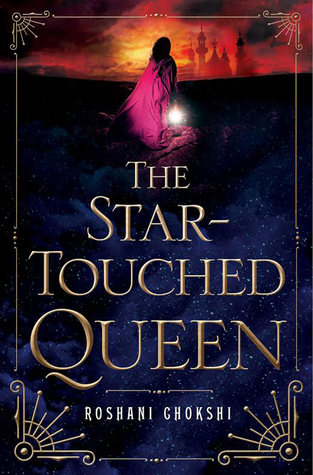 Title: The Star-Touched Queen
Author: Roshani Chokshi
Date Published: April 26th 2016
Publisher: St. Martin's Griffin
Rating: 5 out of 5
*ARC provided by NetGalley*
Goodreads Blurb:
Fate and fortune. Power and passion. What does it take to be the queen of a kingdom when you're only seventeen?
Maya is cursed. With a horoscope that promises a marriage of death and destruction, she has earned only the scorn and fear of her father's kingdom. Content to follow more scholarly pursuits, her whole world is torn apart when her father, the Raja, arranges a wedding of political convenience to quell outside rebellions. Soon Maya becomes the queen of Akaran and wife of Amar. Neither roles are what she expected: As Akaran's queen, she finds her voice and power. As Amar's wife, she finds something else entirely: Compassion. Protection. Desire…
But Akaran has its own secrets—thousands of locked doors, gardens of glass, and a tree that bears memories instead of fruit. Soon, Maya suspects her life is in danger. Yet who, besides her husband, can she trust? With the fate of the human and Otherworldly realms hanging in the balance, Maya must unravel an ancient mystery that spans reincarnated lives to save those she loves the most…including herself.
Reincarnation! I totally love this topic and although it has popped up in a few books such as Incarnate by Jodi Meadows, Girl of Smoke and Bone by Laini Taylor, and Timekeeper by Alexandra Monir, none of these books skillfully or impactfully weave it in as this one.
I absolutely love the two main characters and the horse.
I absolutely love the magical world of Akaran.
I absolutely love how this parallels Greek mythology and some Indian mythology but at the same time is something completely fresh and new.
I absolutely love the magical and sometimes frightening descriptions of the battles, cities, and palaces.
The plot and the characters were the best part of this novel, only rivaled by the beautiful blend of different mythology.
The Star-Touched Queen is deep and thoughtful, unlike many fantasy novels being released this year

Maya is a princess who is written off as a harbinger of death and bad luck. But it's a little more complicated than that as she is the actually connected to the underworld and Death. Cue Amar who saves Maya from her father's awful plan to let her die, and takes her away to be the Queen of Akaran, the place of dreams and nightmares (The Night Court in The Court of Mist and Fury reminded me of this a bit, but this is probably a really bad comparison as these two amazing books are quite different).

So Amar, I think, represents Hades, the ruler of the underworld, Death himself and his Queen is Maya. Except Maya doesn't remember any of her past lives, so she doesn't trust Amar. Cue the villain, Nritti, who is one of the secrets trapped behind the doors mentioned in the blurb. She entraps Maya in a web of lies, making her lose faith in Amar. This turns out to be cataclysmic, and heralds the end of Akaran as well as of peace.

After realizing her folly by discovering her past, Maya fights to get back to Akaran and free both Amar and the rest of the world from the evil of Nritti, And obviously she succeeds but I kinda wish she didn't just so we could have a sequel ;)
I recommend this book to fans of
The Wrath and the Dawn
as well as of the fantasy or mythology genres. This novel is one of my favorites this year, and honestly recommending it to literally everyone because
this
novel is the definition of "magical".