This will be a new feature on my blog and in these posts I will write short reviews for about 3-5 books I've read throughout every month that I didn't have too much to say about, but felt the need to review for whatever reasons.
Title: Scarlett Espstein Hates It Here
Author: Anna Breslaw
Date Published: April 19th 2016
Publisher: Razorbill
Ratings: 3 out of 5 stars
Goodreads Blurb:
Meet Scarlett Epstein, BNF (Big Name Fan) in her online community of fanfiction writers, world-class nobody at Melville High. Her best (read: only) IRL friends are Avery, a painfully shy and annoyingly attractive bookworm, and Ruth, her pot-smoking, possibly insane seventy-three-year-old neighbor.
When Scarlett's beloved TV show is canceled and her longtime crush, Gideon, is sucked out of her orbit and into the dark and distant world of Populars, Scarlett turns to the fanfic message boards for comfort. This time, though, her subjects aren't the swoon-worthy stars of her fave series—they're the real-life kids from her high school. Scarlett never considers what might happen if they were to find out what she truly thinks about them...until a dramatic series of events exposes a very different reality than Scarlett's stories, forever transforming her approach to relationships—both online and off.
I found this novel a bit awkward at times, especially the interactions between the characters, however Scar's voice (both IRL and online) was genuine and hilarious. I literally cried when the Ruth died and it was such a big moment in the novel; I just wish that there were more Ruth + Scarlett scenes because they were so funny and honest. But I feel like the author definitely used Ruth's death as a way to advance the plot and I really didn't like how it was "thrown-in" for that purpose.
There was a lot going on, but the author did a really really good job telling it from Scarlett's point of view, and the vibes I got from this book were overall positive and warm.
I don't often read realistic fiction, but this was a light read. Fans of realistic fiction will probably love this, as the character is so relatable.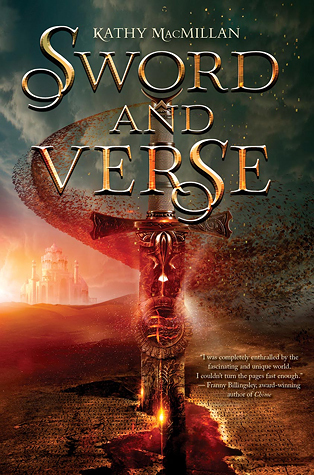 Title: Sword and Verse
Author: Kathy MacMillan
Date Published: January 19th 2016
Publisher: HarperTeen
Ratings: 2 out of 5 stars
Goodreads Blurb:
Raisa was only a child when she was kidnapped and enslaved in Qilara. Forced to serve in the palace of the King, she's endured hunger, abuse, and the harrowing fear of discovery. Everyone knows that Raisa is Arnath, but not that she is a Learned One, a part of an Arnath group educated in higher order symbols. In Qilara, this language is so fiercely protected that only the King, the Prince, and Tutors are allowed to know it. So when the current Tutor-in-training is executed for sharing the guarded language with slaves and Raisa is chosen to replace her, Raisa knows that, although she may have a privileged position among slaves, any slipup could mean death.
That would be challenging enough, but training alongside Prince Mati could be her real undoing. And when a romance blossoms between them, she's suddenly filled with a dangerous hope for something she never before thought possible: more. Then she's approached by the Resistance—an underground army of slaves—to help liberate the Arnath people. Joining the Resistance could mean freeing her people…but she'd also be aiding in the war against her beloved, an honorable man she knows wants to help the slaves.
Working against the one she loves—and a palace full of deadly political renegades—has some heady consequences. As Raisa struggles with what's right, she unwittingly uncovers a secret that the Qilarites have long since buried…one that, unlocked, could bring the current world order to its knees
I've been wanting to read this book forever, as I am a fan of high fantasy, but honestly this was so disappointing. Nothing original except the dual story line (which honestly wasn't very interesting). I did enjoy the mythological aspect of it and how it played out alongside the "real" plot, but it seemed unconnected to the actual plot and was really boring.
The main character was an utter bore and I had no respect for her or the prince, who were both spineless and boring.
This novel really doesn't have anything original going for it and the justification for those two stars is the very literal interpretation of language having power, as only the upper class in this society were allowed to read and write.
Sword and Verse is based on an interesting concept but the the execution of it was entirely uninteresting. I would not recommend this book to anyone.... Unless you were writing an essay about how language consolidates power.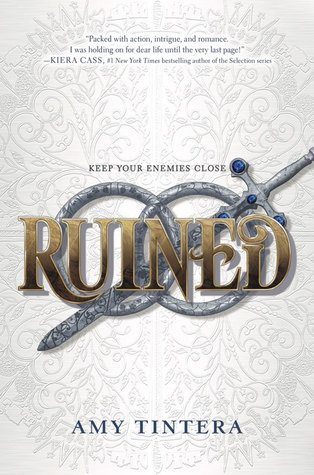 Title: Ruined (Ruined #1)
Author: Amy Tintera
Date Published: May 3rd 2016
Publisher: HarperTeen
Ratings: 2 out of 5 stars
Goodreads Blurb:
A revenge that will consume her. A love that will ruin her.
Emelina Flores has nothing. Her home in Ruina has been ravaged by war. She lacks the powers of her fellow Ruined. Worst of all, she witnessed her parents' brutal murders and watched helplessly as her sister, Olivia, was kidnapped.
But because Em has nothing, she has nothing to lose. Driven by a blind desire for revenge, Em sets off on a dangerous journey to the enemy kingdom of Lera. Somewhere within Lera's borders, Em hopes to find Olivia. But in order to find her, Em must infiltrate the royal family.
In a brilliant, elaborate plan of deception and murder, Em marries Prince Casimir, next in line to take Lera's throne. If anyone in Lera discovers Em is not Casimir's true betrothed, Em will be executed on the spot. But it's the only way to salvage Em's kingdom and what is left of her family.
Em is determined to succeed, but the closer she gets to the prince, the more she questions her mission. Em's rage-filled heart begins to soften. But with her life—and her family—on the line, love could be Em's deadliest mistake.
Sigh. This book is so similar to others in this genre. Overdone themes/ideas present in this book include, but are not limited to:
* magic wielders are persecuted/feared
* the assassin falls in love with the person they are trying to kill
* the parents are evil, and the children "pay" for their "sins"
* the MC is a fabulous fighter, super smart, and tries to hide her true emotions/ can't trust anybody
* the MC has one sidekick/ helper that remains loyal to them, yet they are treated by the MC as expendable and unimportant
Credit where credit is due, the narration was mostly exciting and the writing was not bad. The character were extremely under-developed however, and this more than anything was the real reason for only 2 stars.
I recommend this to those who enjoy any of the aforementioned themes.