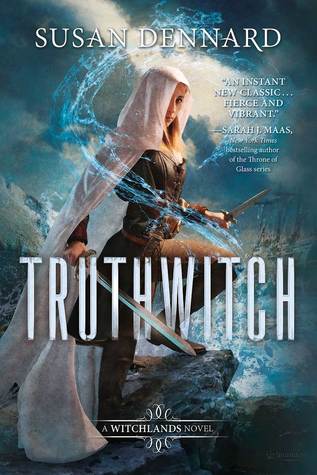 Title: Truthwitch (The Witchlands #1)
Author: Susan Dennard
Publication Date: January 5th 2016
Publisher: Tor Teen
Rating: 4 out of 5 stars
Goodreads Blurb:
In a continent on the edge of war, two witches hold its fate in their hands.
Young witches Safiya and Iseult have a habit of finding trouble. After clashing with a powerful Guildmaster and his ruthless Bloodwitch bodyguard, the friends are forced to flee their home.
Safi must avoid capture at all costs as she's a rare Truthwitch, able to discern truth from lies. Many would kill for her magic, so Safi must keep it hidden - lest she be used in the struggle between empires. And Iseult's true powers are hidden even from herself.
In a chance encounter at Court, Safi meets Prince Merik and makes him a reluctant ally. However, his help may not slow down the Bloodwitch now hot on the girls' heels. All Safi and Iseult want is their freedom, but danger lies ahead. With war coming, treaties breaking and a magical contagion sweeping the land, the friends will have to fight emperors and mercenaries alike. For some will stop at nothing to get their hands on a Truthwitch.
I
ended last year with a
WoW
for this book and sadly after reading over it and comparing my expectations to what it actually turned out to be, I am a bit disappointed. Yes, it was a great book because of the characters, the setting, and the story, but it lacked the depth and presence that characterizes my favorite fantasy novels like ToG and Angelfall.

Pros:
Loved the idea of elemental magic, very Avatar-like

World building/setting description was good

Characters were interesting and had lots of potential (there were so many roles and personalities that were full of foibles)

I gave this book 5 stars because it was fast paced and there was SO. MUCH. STUFF. The details, side-stories, descriptions, character interactions, magic, fights, travelling, and more fighting were all so interesting. I don't think any one of these aspects of the book were developed as much as they could have been, but they were all undeniably interesting and added to the charm of this book.

The writing was good and honestly I loved this book even before it came out. Thanks Twitter.

The map in the front of the book really piqued my interest and I will continue this series in hopes of discovering the other regions.
Cons:
with all the build-up and hype, I expected the book to be my fave book ever, but it fell short of an ideal book

weak character interaction- there wasn't much tension/humor in the dialogue between the characters- it seemed to fall short of my expectations

elemental magic could have been explained waaay better- I get that it's a similar idea to Avatar, but it would have been helpful for the author to include how exactly the elemental witches contributed/played a role in society.

the history was almost non-existent, I want to know more about Nubrevna, about where Safiya is from, why Safiya has such a high rank but lived like a peasant and how she was unable to help Iseult. The mood and intensity of the book was a little shallow/superficial and it felt like the author was just crafting a pretty story. It wasn't very meaningful (to me personally).

To compare to Throne of Glass, this book didn't hold a candle to the action, suspense or

gravity

found in ToG. It had exciting moments, but neither of the heroines pulled off the "badass" vibe like Celaena did.

Safiya and Iseult had a strong bond but it wasn't the best bond I've seen in literature… I compare every "best-friend" bond to that between March sisters and I found this one to be lacking.
Main Characters:
Safiya: Truthwitch (can discern lies from the truth), impulsive, outgoing, loud, and more lively and I guess this book is more "hers" than Iseult's
Iseult: Threadwitch (can see life threads), for the most part acts calm and secretive. She is an outcast and her backstory is heart-wrenching
Merik: Windwitch, the prince of Nubrevna and his role is to help the his country as Admiral of the Nubrevnan navy
Aeduan: Bloodwitch, tries to kill both Safiya and Iseult... but fails every single time. Complicated character, scary at times, and downright confused at others.