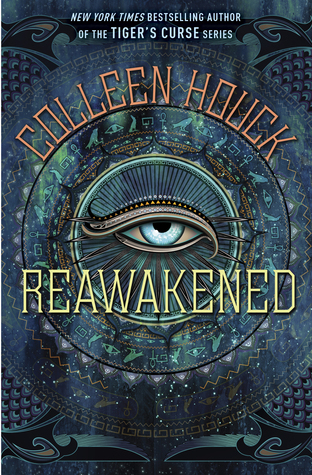 Title: Reawakened (Reawakened #1)
Date Published: August 11th 2015
Publisher: Delacorte Press
Rating: 4 out of 5 stars
Goodreads Blurb:
When seventeen-year-old Lilliana Young enters the Metropolitan Museum of Art one morning during spring break, the last thing she expects to find is a live Egyptian prince with godlike powers, who has been reawakened after a thousand years of mummification.
And she really can't imagine being chosen to aid him in an epic quest that will lead them across the globe to find his brothers and complete a grand ceremony that will save mankind.
But fate has taken hold of Lily, and she, along with her sun prince, Amon, must travel to the Valley of the Kings, raise his brothers, and stop an evil, shape-shifting god named Seth from taking over the world.
From New York Times bestselling author Colleen Houck comes an epic adventure about two star-crossed teens who must battle mythical forces and ancient curses on a journey with more twists and turns than the Nile itself.


As a fan of Colleen Houck's Tigers Curse series, I was ecstatic when I first stumbled upon this book on Goodreads about a year ago. It seemed too good to be true- Egyptian mythology! Mummified princes! Ancient Curses! But sadly I was a bit disappointed- Reawakened did have everything that was promised, but while reading this book I was bored and didn't feel the same sort of excitement that was ever-present with the Tigers Curse series.
So why the 4 stars? With this one I'll admit that the rating reflects my love for the Tiger's Curse series (and this cover!) more than it does for the content of this book.
Now, don't think this book is bad- it's not. It was filled with mummies, Egyptian princes, funny moments, and a few interesting characters. It had all the elements of a 4 star book in the fantasy genre. But what I found lacking was the life. Reawakened was boring. I felt no excitement whatsoever and characters & events were formulaic, lifeless, and middle-grade. I'm thinking that this book is directed at a younger, middle grade age group rather than my usual YA- this might be the reason I find it lacking. *shrugs* I'm not sure why I didn't have a blast with this book when I absolutely loved Tigers Curse and I know, I know. I should stop comparing it to Tigers Curse.
|OK, lets start the review portion of this post.|
The main character, Lily Young, is the only child of two wealthy parents and, as you can imagine, quite lonely. She is a bit unsure of herself and has a "bubble-wrapped" view of the world. She doesn't really have a defining character trait (not funny, smart, or bold) except for her "hidden" sarcasm, which seems to be the main trait that is required in all YA/middle-grade heroines.
The male MC is Amon. He's an Egyptian prince who was awakens every couple thousand years or so to perform a ritual that is meant to protect his people from Evil (aka Seth). This time, he wakes up in the Metropolitan Museum. Amon starts off weirdly backwards and slowly gets more modern as the book goes on. He was an interesting character with a background I really wanted to know about but sadly his thoughts/personality didn't shine through and he wasn't quite a dynamic character.
The plot itself was interesting- Amon had to travel back to Egypt, locate his two brothers, and perform the ritual but of course things don't go as planned. Amon can't find his canopic jars (preserved organs) so he was to use Lily's organs. Then while trying to locate his organs/brothers, the evil Seth makes life difficult and sends henchmen to impede their progress and/or kill them. However, the narration was often dry. The climax of this book (the fight between Seth and the brothers) was anti-climatic because there was already so much fighting going on that it was a bit too much. The Indiana Jones-type scenes that were present in Ms. Houck's Tigers Curse series were in this book; they were pretty good and had me engaged.
My biggest problem: lack of character development. There were only a handful of characters in this book. I personally enjoy a large cast (such as in the Throne of Glass series) but a small one can be nice as well since it helps the author focus on developing each individual. However, in the case of this book, the characters were mostly flat. Interesting but not quite alive. Hopefully Ms. Houck will develop the three brothers in the next book.
My favorite part: the backstory. There are periodic flashbacks through this book and provide context for most of the events. The flashbacks definitely provided more depth to the mysterious brothers, whose individual personalities I found to be lacking. The flashbacks also felt like the most solid and well executed part of this book, and without them, I think there wouldn't be such a clearly defined plot/purpose.
Overall, this book was good. Maybe not exactly 4 stars but it had so much potential. I recommend it those looking for a beach/light read and those who enjoy Egyptian mythology.