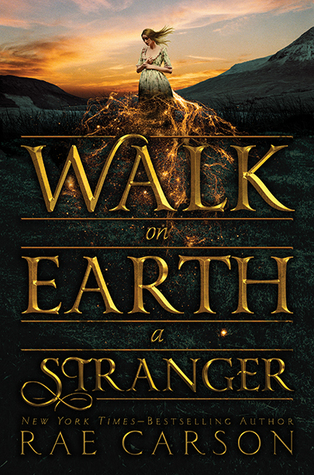 Title: Walk on Earth a Stranger (The Gold Seer Trilogy #1)
Publication Date: September 22nd 2015
Publisher: Greenwillow Books
Goodreads Blurb:

Gold is in my blood, in my breath, even in the flecks in my eyes.
Lee Westfall has a strong, loving family. She has a home she loves and a loyal steed. She has a best friend—who might want to be something more.
She also has a secret.
Lee can sense gold in the world around her. Veins deep in the earth. Small nuggets in a stream. Even gold dust caught underneath a fingernail. She has kept her family safe and able to buy provisions, even through the harshest winters. But what would someone do to control a girl with that kind of power? A person might murder for it.
When everything Lee holds dear is ripped away, she flees west to California—where gold has just been discovered. Perhaps this will be the one place a magical girl can be herself. If she survives the journey.
The acclaimed Rae Carson begins a sweeping new trilogy set in Gold Rush-era America, about a young woman with a powerful and dangerous gift.
*SPOILERS-ish*
A few years ago, when my friends and I discovered "A Girl of Thorns and Roses" by Rae Carson, I was skeptical of trying it. It is a fantasy book, yes, but the story line didn't pull me in. However, mostly everyone I encountered, who read the book, loved it. So, I gave a try... not my type of book.
Understandably, I didn't really have high hopes for this book, but a few reviews, as well as that fantastic cover, convinced me to give it a try. Let's take a moment to enjoy the cover. I absolutely love the font, and although its a bit too elegant/flowery for the action that takes place inside, the gold theme is spot on.
The MC, Leah Westfall (love the last name btw), has a special power: she can sense gold. She doesn't publicize her talent but somehow the store of gold in her house is discovered, and someone kills her parents to get that gold. This is how the story starts off, and there is a lot of action and running away going on, but it's nothing compared to the action during the middle/end of this book. I admit, I found the beginning a bit tedious, and if you find yourself feeling the same, keep truckin' it gets waaaay better!

The book is very character-centric, with a well developed, unique array of characters and they are the main reason I gave this book 4 stars.

The context for this book is the California Gold Rush, and as a history fan, this piqued my interest even more than the cover. To my knowledge, the writing/events were perfectly suited to this time period and Ms. Carson obviously did her research. The "Oregon Trail" part of this book had me a it worried because, hello, cannibalism (guys, don't click this link if you're squeamish, it talks about the Donner Party. Ugh I get the chills just typing that name), but never fear, no one eats anyone. But other stuff happen that make me simultaneously sniffle and sit up with alarm. Honestly, I think this book could be shelved in the horror genre, because some parts are dead scary.
The "caravan" of peeps Lee (Leah disguised as a boy) travels West with includes two or three families and a small militia-like group of men (and of course her best friend Jefferson, who ran away from home before Lee did, but somehow they were able to find each other). A few memorable character include Major, Mrs. Joyner, and Therese. Yes, they're really really memorable.
I hate horror stuff, but I can honestly say that the Trail was my favorite section of this book. The characters we meet are pretty unique (weird, crazy, awesome, inhumane are all apt descriptions) and honestly form the backbone of this book. I am not going to reveal anything that will spoil the book but this is the part of the book where you'll be needing tissues. And maybe a pillow to scream into when the buffalo stampede happens. That part was really stressful and it wasn't the only time I felt like I was actually with Lee, facing all kinds of wacky dangers while
trudging resolutely to a place we've never seen before.
This book touches on a multitude of issues: feminism, Native American/Anglo relations, slavery. It captures the pioneer spirit perfectly and does a good job depicting the difficulties/hopes of those who travel Westward. Although the overarching conflict is between Lee and the murderer (whose identity is revealed pretty early on), Lee vs. crazy people, gender stereotyping, and an arduous journey is ever-present.
The ending was a shock and was really really frustrating, but I can't say anything to justify this statement or else I'll give it away. It's not quite a cliff-hanger because far from feeling hopeless, Lee feels empowered and gives off the vibe that she'll be able to handle anything. This could be a standalone from the way most things wrap up. But of course, the main conflict-confronting the murderer- didn't really resolve so I'm still looking forward to the next book.
I recommend this to history buffs, fans of gritty Western action books, and those who enjoy character-based novels.